How to get to the 18th Battalion Memorial Rifle Club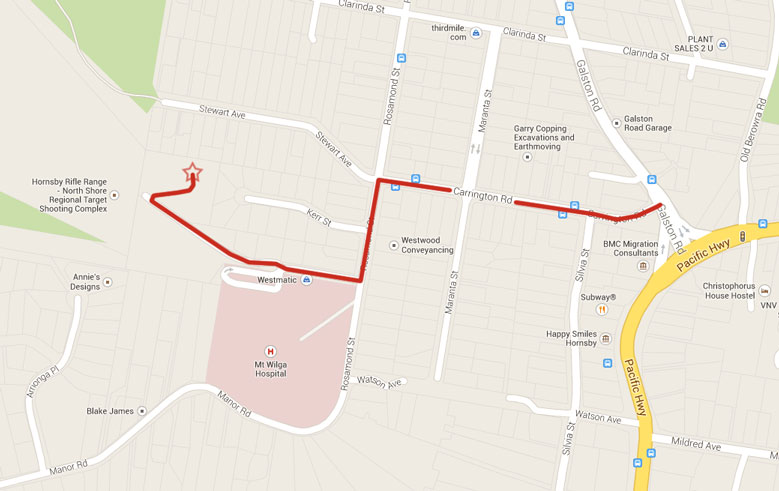 18th Battalion Memorial Rifle Club is at Hornsby Rifle Range, enter off Rosamond Street, Hornsby NSW
If you are using one of those navigation gadgets, enter your destination as Mt Wilga Hospital.  If you are still stuck in the analogue era, there are directions below.
Drive north on the Pacific Highway on the west side of Hornsby railway station.
Turn left onto Galston Road and then an immediate left into Carrington Road. Pass two streets on your left and then then turn left onto Rosamond Street.  Proceed 200m, Mt Wilga hospital will be on your right.
Turn right into the Mt. Wilga rehabilitation hospital, passing their car park (go straight ahead through the rifle range gates) and now you are on the range complex. Turn right after the North Sydney Rifle Club (long green building) and the 18th Battalion club house is behind.
Speed limit on the range complex is 15kmh – this is to protect the range users and also the range infrastructure (roads etc) and reduces dust too.
Note as you enter the range RED FLAG flying (or red LEDs illuminated) = Range is ACTIVE